Is my Electric Water Heater talking to my Electric Company? 
We all want cleaner and more reliable energy sources.  Washington State is spearheading the charge to the goal of net zero carbon emissions in the upcoming decades.  Part of the State's Plan in implementing its energy program includes various new laws and building codes.  One component of this strategy is to set specific standards for replacement fixtures in existing buildings and homes – to require your new fixtures in your pre-existing home closer to the new building codes.   Some cities in the area are taking larger steps than others towards this goal, so your local building codes may differ.
Washington State Law (RCW 19.260.080), effective January 1, 2021, required all new electrical storage tank water heaters, between 40-120 gallons, that are sold and installed in our State, be fitted with communication devices on them that allowed the utility company to receive and transmit information from your electric water heater or heat pump.  This enaction of this law was delayed until January 1, 2023, due to supply chain issues.
Oooookay.  What does that mean to me?  When your new electric water heater or heat pump is installed, it will have a CTA 2045-A Port Adapter pre-installed in it that allows your utility company to "listen and talk" to your water heater, if enabled.  Connection to the utility company will require active Wi-Fi to connect to the internet.
What is this communication device CTA 2045-A Port Adapter with UCM?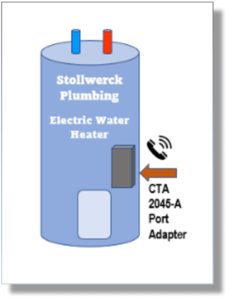 CTA stands for Consumer Technology Association. CTA is a standards and trade association, based out of Virginia, that was created in 1924 as the Radio Manufacturers Association.  CTA now represents almost 1400 consumer technology companies in the United States – hosting events like the Consumer Electronics Show.  This organization helps research and implement technical standards in technology devices.
CTA 2045-A Port Adapter is a modular communications interface (MCI) that facilitates communications between devices for purposes like energy management, created with the CTA uniform standards in mind.  Loosely, the CTA 2045-A port is like a universal socket for a communication module that transmits and receives data.  The adapter does not do anything without a connection module being installed.  This is built into the water heater or heat pump.
What is an UCM?   I have seen two definitions – Either Universal Control Module or USB Connector Manager.  Either way, it's the piece of equipment you install into the CTA 2045-A Port which translates the data from your electric water heater or heat pump to the Utility Company, and conversely, allows the Utility Company to transmit instructions back to your electric water heater or heat pump.  Your utility company would provide you with the UCM if you connect to their Grid Demand program.
To sum it up in one thought, the CTA 2045-A Adapter with UCM, is the communications system that allows your electric water heater or heat pump to be part of your utility company's larger energy grid, if connected.  The port and module prepare your electric water heater to be classified as a "grid enabled device."  Your water heater or heat pump can communicate via Wi-Fi to follow the run times sent to it from your utility company.  For instance, if the utility company is having an issue during peak hours with energy supply, they may tell your electric water heater or heat pump to slow down or operate during non-peak hours only, to conserve energy.
Do I have to connect to the utility company?
As of the writing of this article – the answer is no.  After talking with a representative at PUD of Snohomish County, they do not have a grid enabled program in place at this time for water heaters or heat pumps, even if you wanted to connect to it.  There is no State Law that requires you to connect your "grid enabled" device to any utility.  PUD of Snohomish County is not requiring you to connect, nor are they distributing any UCMs at this time.  In fact, part of the new law states you, as the consumer, must provide specific written affirmation for the utility company to receive data from or regulate your electric water heater or heat pump.  Other localities appear to have Demand Response programs available, but it is optional to participate.  You can also manually "opt out" of a particular event if the utility company does reduce the load.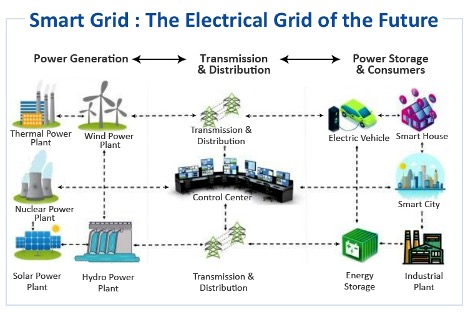 Graph Credit- Sharad Bhowmick, Circuit Digest, January 10, 2022
Will it become an option in the future?
The answer is yes.  PUD has performed active testing studies to determine how to implement its Grid Demand Program.  Based on that information, combined with a compilation of various local, regional, and national data, and careful consideration for the need for this type of program in our area, PUD will offer different programs in the future.  Other utility companies are piloting programs now in specific areas, that provide incentives and discounts for being part of their "enabled grid" programs.
RCW 19.260.080 – Electric Storage Water Heaters
(1) An electric storage water heater, if manufactured on or after January 1, 2021, may not be installed, sold, or offered for sale, lease, or rent in the state unless it complies with the following design requirement:
(a) The product must have a modular demand response communications port compliant with: (i) The March 2018 version of the ANSI/CTA–2045-A communication interface standard, or equivalent and (ii) the March 2018 version of the ANSI/CTA-2045-A application layer requirements.
(b) The interface standard and application layer requirements required in this subsection are the versions established in March 2018, unless the department adopts by rule a later version.
(2) The department may by rule establish a later effective date or suspend enforcement of the requirements of subsection (1) of this section if the department determines that such a delay or suspension is in the public interest.
(3) Private customer information, and proprietary customer information, collected, stored, conveyed, transmitted, or retrieved by an electric storage water heater equipped with a modular demand response communications port required under this section or rules adopted under this chapter is subject to the provisions of RCW 19.29A.100 and 19.29A.110.
(4) An electric utility supplying electricity to a building in which an electric storage water heater that meets the design requirements established in this section has been installed may not, without first having obtained in writing the customer's affirmative consent to participating in a program that allows such alteration, alter, or require the utility customer to alter, the usage of electricity or water relating to the electric storage water heater on the basis of information collected by the electric storage water heater or any associated device.
Washington State Dept. of Commerce:
https://www.commerce.wa.gov/growing-the-economy/energy/appliances/