″Why is my water heater making that awful noise?″
is a great question. Sounds can range from a hum, a pop, or a rumble, a sizzle, a rattle, a constant ticking, a hiss, a series of clicks, or a hammering sound.
Understanding the difference between normal operation sounds of your tankless water heater and abnormal sounds is critical to determining the cause of noise issues and providing a resolution. Is it the water heater, other plumbing issues existing in your home, or other mechanical systems in your home that is causing the noise? Is it merely the normal operating sounds of my new water heater and pump? What sounds should I be listening for to indicate there is an issue?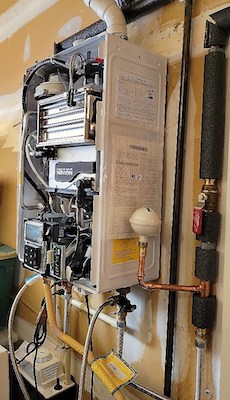 1. Accumulation of Mineral Deposits and Sediment
If you live in an area with hard water, you are familiar with mineral deposits and sediment. Even in areas with softer water, municipal water treatments may introduce minute amounts of chemicals, and your tankless may show signs of mineral and scale buildup. Various minerals and sediments get trapped in the mechanical components and pipes of the system. This buildup will result in sensor issues and can cause water flow issues, among other performance issues in your tankless unit.
2. Popping
a) When you have been using your tank for several years, you may notice popping
sounds.
b) Residues may take on a variety of shapes and sizes, and these solid particulates can heat up on the elements and produce popping sounds.
c) Particulates can be made up of sand, small stones, and other small contaminants.
3. Rumbling
a) Water expands as it heats up. Rumbling in the tank indicates that there is a significant quantity of sediment or debris in the water being introduced to the heater.
4. Crackling
a) Do you hear any crackling sounds when you switch on your water heater, particularly when it is first turned on?
b) It is possible that sediments and other debris has coated the components of the tank and may be causing an issue with flow rate, which creates odd noises.
5. Sizzling
a) Condensation may be an issue. When water droplets develop in the tank, they have the potential to fall onto the unit's burner. If water droplets are in an odd locate, and heater becomes too hot, it will sizzle as soon as the water comes into contact with it.
6. The Pipes in Your Building – Hammering, banging or heavy rattling.
a) Aside from water heaters, the pipes in your building may make weird or annoying
noises as they circulate water.
b) Hammering, rattling or banging noises can be produced as the pipes change in size or water pressure fluctuates – causing the pipes to contact the structures (wooden framing, metal or plastic hangers or straps, other pipes, etc.) in your
home. This expansion and contraction can happen quickly causing intense vibration.
c) Air in your lines. You may have air trapped in your pipes, which is causing extreme changes in flow rates, causing the lines to hammer or bang on your structure.
d) Check your home's water pressure. It may be too high or too low for proper function.
e) Water leaks in other areas of your home, or other plumbing fixtures malfunctioning may cause water pressure issues, which may cause your home's pipes to vibrate.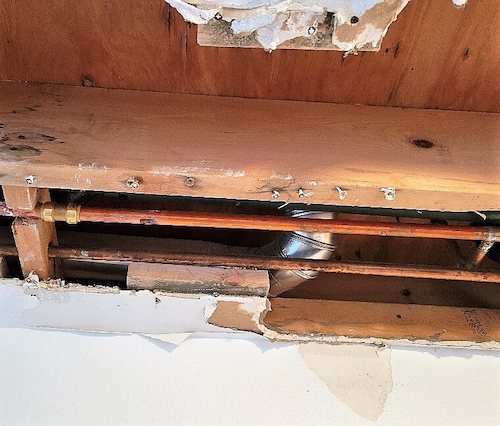 7. Ticking
a) Ticking is produced as pipes grow in size when heated, and contract when cooling. This is a normal process of heating and cooling materials, called thermal expansion.
8. Hissing
a) Hissing sounds may be signs of a leak. Check for leaks from or around your water
heater. Puddling on floors, damp drywall or damp patches on walls around your water heater indicate there may be a possible leak.
b) Hissing sounds may also indicate a gas leak in the area. If you smell any gas, exit the area, shut off the gas to your home immediately, or call your utility company or 911 to shut the gas off.
9. Humming
a) Some water heaters create buzzing or humming noises when they are operating.
b) Your system has heating elements and normal operating mechanisms may cause
vibration, which may cause a humming noise.
c) When cold water is introduced into the tank and circulated throughout the unit, parts of the unit may and produce humming sounds with the change in water temperatures.
10. Clicking.
a) A clicking sound, may indicate the flow switch may be being turned on and off
(completely normal). The tankless units switch on when in use, and off when not in
use. If your unit has an internal recirculation pump, or one installed adjacent, you
will hear the pump turning on and off, as part of the recirculation process.
How can you resolve noise issues?
A tankless water heater is a mechanical device and has normal sounds of operation, just like your car. These sounds are different than sounds your standard tank style water heater will produce during operation. A good analogy is when you sell your commuter car and buy a truck – there are going to be different noises associated with normal operation, but both will still get you to the grocery store.
Solving your tankless noise issues may be as simple as turning the tankless unit off and on. Often, reading the code on the tank's screen and checking the manual will tell you the issue, and provide a quick fix. Software upgrades are always a possible resolution, so please check with your manufacturer's customer service line to see if any upgrades need to be installed to address performance. Always have your tank flushed/serviced in its manufacturer recommended intervals. If you have harder water, you will want to have your tank flushed, descaled and run through a diagnostic more often.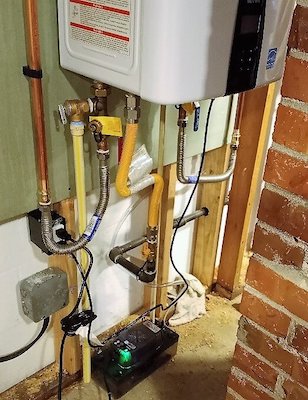 If you are still having issues with water noise or operation noises of your tankless, call a licensed plumber. Your tankless water heater may have other technical issues that a trained, professional plumber needs to address, and it may be a warranty repair issue with the manufacturer. There may be other issues in your home, like other mechanical systems which are the real culprit. For instance, your home may have a heating and/or cooling system located in similar area as your water heater or water lines, which makes it sound like the tankless system is the issue, but it really isn't at all. Call Stollwerck Plumbing today, to help chase down those noise issues, and help work towards a resolution for you! (425) 374-3909.