We have listened to your requests and are ready to help!
Stollwerck Plumbing is now expanding our service area to provide quality plumbing and sewer services to our neighbors in Granite Falls, Arlington, Monroe, Camano Island, Lake Forest Park, Kenmore, Woodinville, Bothell, Seattle, Shoreline, and Kirkland! 
We are still servicing Mukilteo, Everett, Lynnwood, Edmonds, all of South Whidbey Island, Mountlake Terrace, Brier, Snohomish, Lake Stevens, and Marysville, but would like to share our excellent teams with new neighborhoods.  Let Stollwerck Plumbing bring our experience and friendly team to your home or business, to assist with your plumbing needs.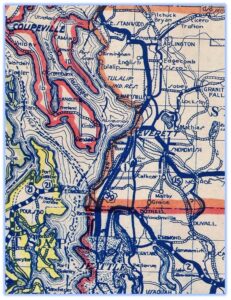 Dept. of Transportation Map 1933
Courtesy of Washington State Library 
Focusing our business on plumbing, sewer, and gas services, we can concentrate on delivering high-caliber service levels and products to our clients.  From big to small, Stollwerck Plumbing and Sewer can help you navigate the course.  From remodeling your home, improving tenant spaces, replacing a water or sewer line, swapping faucets, or just need that pesky kitchen sink unclogged, we are here for you.  Thinking of installing an outdoor cooking and living space, and need gas run for your grilling station/fire pit?  Stollwerck Plumbing can help with that.  Is your sump pump failing, your grease trap begging for service, or you just want a video inspection of your sewer line?  Stollwerck is on the job.   Not sure which toilet or shower system will work best in your renovation and would like a worry-free, plumber supported manufacturer warranty?  We hear you and can offer a range of code compliant/ price range/ style options in your product decisions.
Won't you help us start this exciting journey?  If you have used our services before and been happy with your results, please share our name, or link to our website with your friends, colleagues, and networking groups in these new service areas.
Stollwerck Plumbing & Sewer
(425) 374-3909