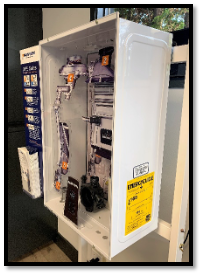 Are tankless hot water heaters on your home improvement to-do list? Maybe they should be…Imagine waking up every day and experiencing an endless supply of hot water to your shower while you are also running the dishwasher.  Or being able to start a laundry cycle while simultaneously running your hot /cold hose bib outside to wash the dog?  Do you want to reclaim space in your garage or utility room?  Tankless water heaters are wall-mounted units that average 17" wide by 28" tall, by 13" deep! Currently, both Puget Sound Energy and the IRS will provide you with incentives to install a tankless water heating unit in your home – up to a total of $550 in a combination of rebates and tax credits.  By taking advantage of the new technologies used in a tankless water heater, you can improve your Mukilteo home value and energy efficiency.
When choosing a tankless water heater, you should definitely rely on the advice of our professional, licensed, and Navien certified team.  There are many factors to consider when selecting which tankless options are suitable for your home or business.  How many bathrooms? How many water-using appliances do you have?  Do you have one fixture or appliance that would require a large amount of hot water in a short amount of time, like a soaking tub?  Do you use your washing machine all the time? For instance, are you are using cotton diapers with twins, or do you have a large family? Or does your business have a particular machine that requires dedicated hot water service?  Outside of the water usage, another question is whether or not you have sufficiently sized gas lines to supply the natural gas or propane to efficiently run the tankless and proper venting to exhaust the tankless.
Why does Stollwerck Plumbing choose Navien as its tankless water heater of choice?  After years of installing, using, and servicing tankless water heaters, we feel Navien is the best bang for your buck in performance, quality materials, reliability, warranty coverage /product support, and green technology.  Navien has been perfecting tankless water heater technology since 1978 and opened a plant in the US in 2020 to begin manufacturing and distributing them from Virginia.  Professionally installed and routinely maintained, your Navien unit should last 15 to 20 years or more.  Patented venturi fed dual burners, a built-in recirculating pump, wireless monitoring and adjustment options, and an easy app/software interface all add up to a great experience.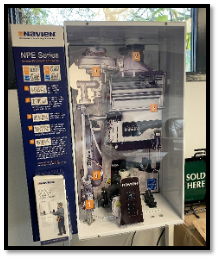 Gas-powered tankless water heaters are super-efficient, on-demand little powerhouses of endless hot water!  What does that mean to me?  Well, it means you are only heating water when you need it, and, with the "smart" systems built into the tankless units, it can even predict when you want the water, based on use patterns, to have it readily available.  Even more impressive, a recirculating pump is built into the tankless unit to keep that hot water ready for your use.  Even as super-insulated as they can be, current gas or electric tank-style water heaters always experience "standby heat loss," in which the water stored in the tank loses a portion of its heat, despite being thoroughly insulated.  This wasted energy equates to wasted money.  Because tankless water heaters only heat water when you need it, you are not losing heat or money by storing water in a system.
Why are electric tankless water heaters currently a limited practical application option in the PNW?  There are a few key factors why electric tankless water heaters are not currently an efficient option when trying to find an economical and super green energy method to heat water for your whole home.
Groundwater temperature. Our average groundwater temperature is between 48-52 degrees.  In comparison, average groundwater temps in California range from 57 degrees to 72 degrees.  The amount of energy required to heat water coming from Spada Lake to 120 degrees is much greater than the energy needed for someone living in San Francisco to heat their water to the same temperature.  Concurrently, the amount of electricity needed to fuel that electric tankless to heat that water would be larger in our area, compared to places like California or Georgia.
Electric panel requirements. When installing an electric tankless water heater, for instance, a Steibel-Eltron Tempra 36 (the largest capacity they make for home use) requires a 240 Volt service to the unit and three 50 amp breakers be available in your electrical panel – per tankless unit.  The gauge of your wiring may need to be upgraded to safely power the electric tankless unit.  This may be an unexpected expense in upgrading your electrical panel and possible re-wire to accommodate the voltage requirements, new load demand, and safety for the proper operation of the electric tankless.  Suppose your usage requirements necessitate more than one electric tankless to meet your supply needs. In that case, you can see how the costs in upgrading your electrical panel, wiring, and possibly your home's electrical service would multiply your initial costs.
Today's natural gas water heaters fueled tankless water heaters are much more efficient at heating the water for flow rate – or heating the water faster – than an electric tankless water heater in a whole home setting. Electric tankless units simply take longer to heat the water to temperature, leading to fluctuations in water temperatures at the taps, especially if you are running more than one tap at once.
Tankless or Not?  What works best for me? And I want to make sure it is good for the environment and preserve energy independence.  If we all converted to electric tankless water heaters, electric chargers for our vehicles, electric furnaces, and electric appliances, the demand on the electric power grid would increase.  That's a whole lot of demand for electricity! In the event of electric grid failure (as we saw in June 2021, when our heatwave caused Avista to schedule outages to allow for demand on AC units, and PSE said it was the high temps themselves which caused outages), we don't want to put all our eggs in one basket.  When the electric grid goes down, absolutely nothing electric will function – heat sources, cooking stoves, water heaters, water pumps, or vehicles.  A tankless water heater is definitely a great move in the right direction to heating only enough water for the actual water used.
Credit: Washington State Department of Commerce
So, where do we start preserving our planet while retaining a range of viable fuel options to keep our homes (and their water heaters) working efficiently?  Forward-thinking building, renovation, and replacement practices will help ensure insulation and venting in homes contributes to heating and cooling thermal savings.   Manufacturers could develop products that use various fuel sources, like hydrogen gas, electricity, propane, geothermal, or natural gas, while also working on the byproducts of the heating in those units.   Battery banks, while great for saving the energy provided by solar, wind, or water generators, have their own inherent pollution with the metals and processes used in battery creation and further issues with limited or nonexistent environmentally green methods of disposal of the materials.  Ultimately, it will take a blend of manufacturers, energy resources, and battery technology firms to develop products with increased fuel efficiency. In addition, products that can run on various fuel sources, green recycling, and disposal solutions combined with consumers willing to pay the costs for that new technology need to be part of the solution.
Looking to make the move to a Tankless Hot Water Heater in Mukilteo? Contact Stollwerck Plumbing today.