What do we love about Marysville?  Being a plumbing company gives us the opportunity to work in neat parts of the city, visit hidden gems while we are enroute or between service calls, and really get to know the owners of these businesses.  As previous residents in the Sunnyside neighborhood, let us share with you our favorite "go-to" places in Marysville!  We still come back to patronize our local businesses and catch up with the owners.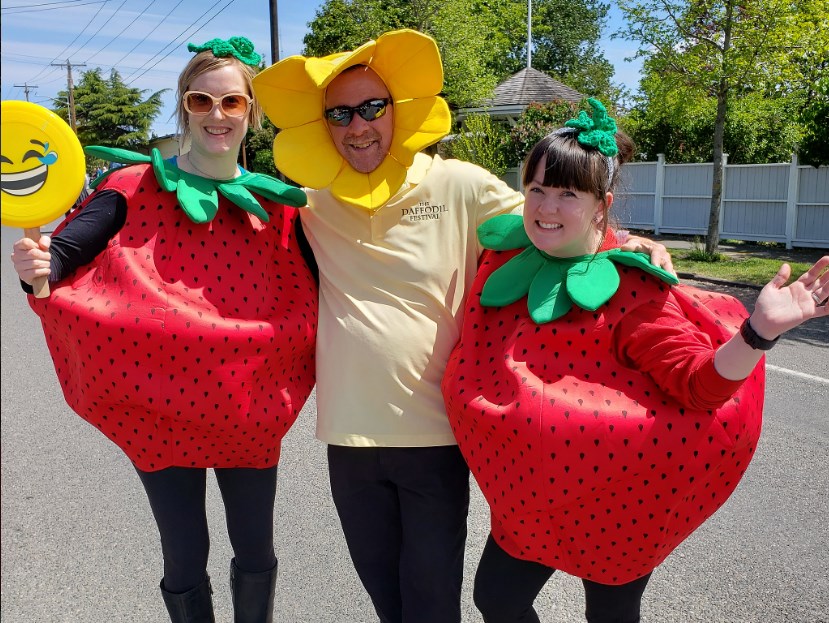 Strawberry Festival
 One of the highlights of the year is the Strawberry Festival.  Not only does it mean the start of summer, but the whole town comes out for this weekend long event.  Whether for the parade, for the car show, or the tricycle races, the live music, or all the strawberry foods and crafts in the market, there is something for everyone to enjoy.
Tulalip Resort and Casino
If you want to find an "all-in-one" place for music both in a cabaret or amphitheater setting, great eats, spa facilities, 5-star hotel accommodations, with, bingo, slot machines, and table games, the Tulalip Resort and Casino is your place to visit.  This complex also hosts many local charity events with top-notch service.  One of my favorite features is located by the boutique shops inside the resort – there is a stunning rock wall waterfall into the swimming pool, which is beautifully lit with accent lights. 
J&S RC Hobbies Plus
  Looking for something fun to do with the kids outside?  J&S RC Hobbies Plus on State Ave has a great shop for all your radio-controlled hobby needs and an awesome outdoor track to practice and compete in RC races.

Jennings Memorial Park
  Jennings Memorial Park is the biggest and best of the parks in Marysville – 30 acres of trails, playgrounds, picnic areas, a museum, a dinosaur park, and a fishing pond.  This park also hosts summer concerts, movies in the park, a fishing derby for kids, and the annual Easter Egg Hunt.
Kayak Point Park
 Interested in a day or overnight adventure at the beach?  Kayak Point Park has fishing, picnic areas, standard camping, a boat launch, and even "water trail" campsites where you have to paddle or windsail your way in- no hiking in, no powered access.

Sound Harley
Does the big kid in you want to play too?  Swing by Sound Harley, to check out a new ride.  They also have a great service/parts department if you need your current bike serviced, and all kinds of Harley Davidson gear.
E & E Lumber
Working on your home, and want to avoid the big box stores?  E & E Lumber has been a Marysville fixture for over 55 years for all your hardware and lumber needs.  This store features not only a comprehensive hardware department but lumber, decking, local live edge timber, and garden art sculptures created by local artists.
Sunnyside Nursery
Time to update your landscaping, interior houseplants, or mulch?  Sunnyside Nursery offers a wide variety of trees, shrubs, grasses, flowers, pots and fountains to create your indoor and outdoor oasis.
Frank Lumber "The Door Store"
Various classes are offered throughout the year to provide tips and education about what would look great in your yard or home, and how to take care of it!  Nothing is better than supporting local craftsmanship – so we choose Frank Lumber "The Door Store" for all our interior and exterior door needs.  Frank's has a great staff to make sure all those measurements are correct, and the hardware is spot on. 

Slumber Ease Mattress Factory
Another local company that builds from scratch is Slumber Ease Mattress Factory on 4th Street.  If you've ever wondered about a custom mattress, for your home, RV, or boat, and want something that is specifically tailored to meet your specific sleep preferences, this is the bee's knees.  I never knew how much of a difference there was between the chain store's offerings, and a mattress personally tailored to suit me could be, until I chatted with the owner of the store. 
Wagner Jewelers
 Wagner Jewelers is a full-service jewelry store, with goldsmiths in-house and a great selection of local consignment pieces also.  It feels great to have a local jeweler you can trust with the repair of your family heirlooms, or help in choosing a great anniversary, graduation, birthday, or "just because" gift.
Donna's Travel Plaza
 Marysville is a great place to sample all kinds of different cuisines, in a variety of different locations.  Looking for a quick and delicious burger for your road trip?  Try Donna's Travel Plaza off 116th Street NE.  As a traditional truck stop, Donna's is open 24 hours, their menu has a host of filling and flavorful American staples, with daily specials.

Espresso Connection
Time to wake up, or recharge in the afternoon?  Espresso Connection on State Ave. has been keeping us in caffeinated delights for over 10 years.  Yummy nibbles and a family run stand – and be patient – there is always a line for coffee perfection.
Jeff's Texas Style BBQ
Needing a big taste of summer?  Jeff's Texas Style BBQ satisfies with their "made daily from scratch" smoked meats and sides.  Simply delicious and oh so satisfying.
Kami Teriyaki
Simply delicious and oh so satisfying.  Craving some fantastic teriyaki, katsu pork, or gyoza?  Look no further than Kami Teriyaki on State Ave.  The owners believe in fresh ingredients and large portion sizes – you will definitely not leave hungry.
Cristiano's
 I was introduced to Cristiano's by a co-worker and have ever since been in love with their Italian offerings.  Their lunch special of personal pizza and house salad was my entry to the magical world of homemade sauces, pizzas, and pasta from this cozy restaurant.

Journeys East
Feeling like something a bit more formal?  Journeys East inside the Tulalip Resort and Casino feature a delicate sampling of dishes from Japan, Thailand, Vietnam, Korea, and more rounded out with a fantastic cocktail menu, and great wine and sake collection.
The Creamy Co.
 Ready for dessert and homemade baked goodies?  The Creamery Co. on State Ave. is a build your own frozen yogurt shop with a great selection of daily treats, coffee, and even a gift shop!
We at Stollwerck Plumbing purposely keep supporting small businesses by patronizing as many locally-owned establishments as we can.  We hope you will love the charms of Marysville as much as we do, and find many of your own!