Plumbing is nothing to gamble with.
So neither is choosing your family plumber.
While we take great care in choosing our doctor and our dentist, we often put off choosing a plumber until disaster strikes. So when you are scrambling to choose a plumber you can trust with the health of your home, how can you tell?
To keep you from hiring the wrong plumber, getting taken advantage of, or having shoddy work that creates more cost and headaches later on… let's take a look at 7 red flags to watch out for and help you find your new family plumber.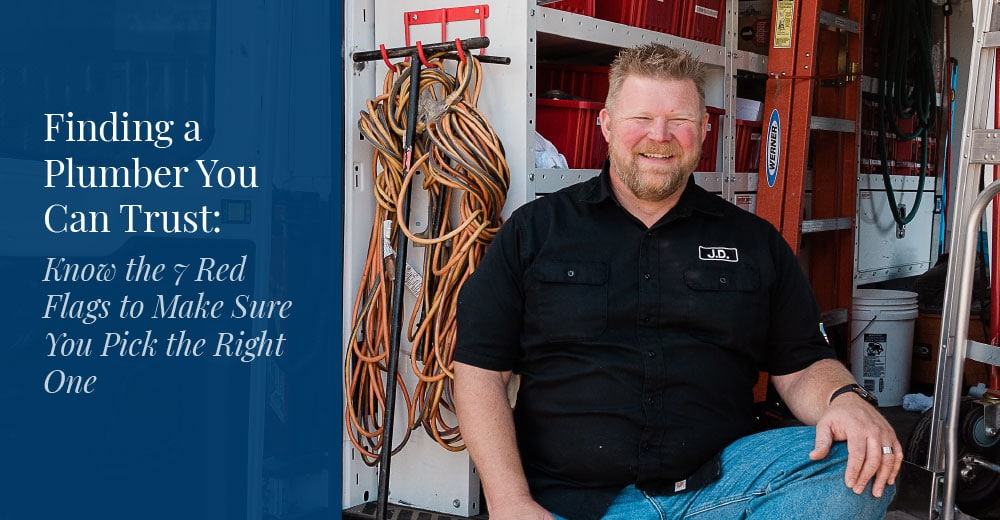 Finding A Plumber You Can Trust: Red Flags To Look For
Here are the seven main red flags to look for when searching for a plumber you know you can trust.
Red Flag #1 – Working unlicensed and uninsured
In the 21st Century, people tend to believe that surely everyone in business is both licensed and bonded, as well as insured against potential damage or other loss.
This is not always the case.
A homeowner or commercial property owner can quickly find themselves responsible for not only the additional costs of the original repair but any bodily damage to the plumber and the company's equipment.
First impressions are worth a fortune when it comes to assessing the potential abilities of a plumber. If they drive up in a beat-up truck, with nasty sewage dripping from their last job, it is a safe bet they will leave a mess at your job. They may also be skimping on things like insurance, education, and licensing.
Such a specter should tip you off as to the quality of their workmanship, if not dependability and trustworthiness.
Ask about their license, insurance policies, and the bonding contract that proves they passed some kind of testing procedure before becoming licensed. If you're unsure, request to see copies.
Washington has a minimum amount of insurance required, but that doesn't mean everyone claiming to be a plumber has it. Really good plumbers will go above and beyond the insurance requirements.
Some plumbing companies also use a combination of licensed and unlicensed workers. So be sure to make sure everyone working on your home is fully licensed to ensure the work is done right and your home is protected.
Red Flag #2 – Using the correct tools for the job
A proper plumber is not the same as a person with a couple of basic plumbing tools and a beat-up pickup truck.
A reputable plumber will have at least a professional van or small box truck with all his equipment and tools, including the tools to properly and efficiently handle any job, including fitting new pipe or scoping out sewer lines. Those with the care to use the right tool for each need will show the right care for your home and plumbing.
And when it comes to drainage and sewer lines, they'll have the modern scoping equipment to properly see exactly where the problem is. And they'll have the ability to repair it, often without trenching up your yard.
Speaking of sewer lines, when a blockage does not respond to your household efforts of store brand drain cleaners, the sewage lines outside your home are the likely culprit.
Depending on the age of your property, the type of material and size of your drainage pipes require a special tool designed for that diameter pipe. Tree roots grow through sewage pipes and cause these clogs. Any effort to clear the pipe with a blade too small for the diameter of the pipe means the plumber must come back in a matter of time. Depending on the size of your family (or number of customers for commercial locations) these pipes will quickly become clogged, again.
Reputable plumbers do not mind if you walk around with them asking questions. If they grab a pipe rooter that doesn't look like it is at least 3 inches in diameter, ask if it is big enough for the size pipe in your property.
Red Flag #3 – Showing up uninvited or phone solicitation
Two incidences that often send up red flags are door-to-door plumbers, and phone solicitations that offer great deals then deliver something else.
Even in this modern age, there are still families that travel the country as work crews and offer everything from paving your driveway to providing a full inspection of your plumbing and electrical. This one is a tough call to make as there are reputable people in all settings. However, if you ask about their warranty and how long it takes for them to return and make good on their guarantee, it can become evident they are not someone you wish to hire.
Phone solicitation (a.k.a. Bait and Switch) often results in large plumbing bills because they arrive and up-sell you on a different plumbing issue. What started out as a 'free water heater inspection' suddenly becomes a need for a brand new water heater and additional pipes due to some obscure reasoning that sounds good, but only drives up the final costs.
Red Flag #4 – Estimating a job sight unseen
Let's just get straight to the point on this one. Any repair person who quotes an estimate with the job sight unseen is probably going to gouge you on the final bill.
Maybe ballparks… but never a true estimate.
Although reputable plumbers most likely know the typical cost involved, they would rather see with their own eyes because you might not know enough about plumbing to properly describe the problem. And unexpected elements unique to your home, plumbing, and ease of access all can greatly affect the end cost.
You don't want a big surprise, and they shouldn't want that either.
Ask what they charge for a house call to determine what the job requires and if that amount is added to the bill. With experienced plumbers, you often find there is no charge for assessing the situation and making a final bid.
Red Flag #5 – Money matters
Plumbing and renovations can run the gamut from quick, small jobs to very costly large projects with a large scope. Either way, you should know beforehand what cost to expect based on the plumber's estimate and the extent of the project at hand.
The first thing to do if you're faced with a very large and costly plumbing project is to contact your bank.
This is one situation where banks can help prevent you from being taken advantage of by any repair or remodeling companies. Consider a small home loan that covers the bid, and then the bank becomes responsible for paying the plumber.
The plumber is assured of payment, and you get additional protection against fraudulent workmanship.
On smaller plumbing issues, be cautious if the plumber wants to be paid before the job is completed, and/or wants cash.
Red Flag #6 – High 1st hour rates and bringing extra workers
Look closely at the estimate…
When a plumber states that the first hour is a set amount and then keeps adding money to it, it is a good sign they are gouging you on the price.
Another trick is bringing at least one other worker, sometimes several. If a crowd follows him or her on a relatively small job, politely ask them to leave and that you already have the matter attended.
Red Flag #7 – Padding and lowballing the estimate
Additional red flags are padding the estimate and lowballing other plumbers' bids.
If something looks off with the cost of parts in the estimate, it can pay to check it out…
Here's where a few helpful smartphone apps come in handy. Most chain-operated home improvement companies have apps that let you check prices on everything in the store.
A reputable family plumber does not want to gouge you, but also doesn't want to give you the cheapest parts when it comes to quality.
Too low and you want to worry about either poor quality or nasty surprises later. Too high and they may be adding an unreasonable amount of padding to the cost.
So if the so-called 'professional' comes in with a very low bid, ask them how and where they get their parts. In this situation the plumber is likely to have a call he forgot to attend and will make a hasty retreat.
Always make sure your plumber is licensed, bonded, and insured against any defects in parts, workmanship, and injury or property damage. Also, ask about the hours they keep and if they are available 24/7.
And last, make sure they've been around awhile and are an established company. You want someone who will be there to stand behind the work they do later. Lowballing can be a sign of a fly-by-night, hobbyist, or quick-to-go-out-of-business plumber.
Find A Plumber You Can Trust
Here at Stollwerck Plumbing & Sewer we emphasize high-quality service and upfront honesty. Contact Stollwerck today to find an Everett plumber you can trust.